My close personal friend, Christine, approached me this past weekend with an incredibly generous idea. The idea involved having a monthly giveaway where we award one lucky reader with a piece of jewelry that symbolizes our fight against Domestic Violence.
A little background on Christine…
Christine hand-makes unique one-of-a-kind fashion jewelry of all shapes and sizes for men and women. She has a line of jewelry for special causes (i.e. Domestic Violence), where all proceeds are donated to it's respective organizations. Currently, she is working on having a site built to showcase her art. We'll keep you posted as to when her site goes live.
OK, so back to the giveaway. Our idea is to have one prize/winner each and every month. This month we will start as of now and end on the 31st of March.
Here is the special piece we are giving away this month: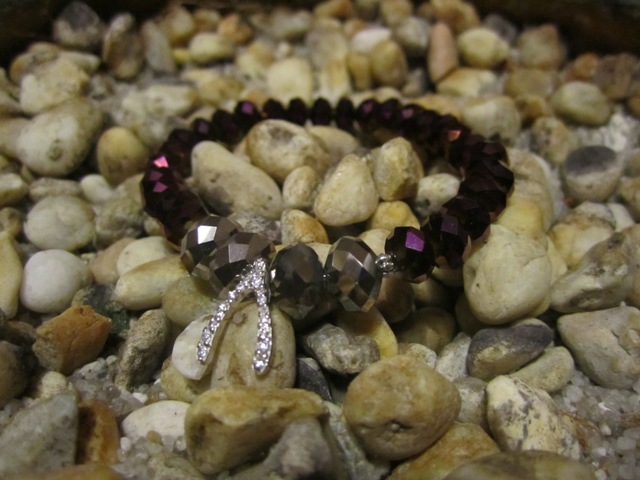 Description: Purple glass bead bracelet w/ sterling silver and cubic zirconia wishbone.
The rules are simple:
"Like" this post by clicking the  button below
Leave a comment for this March Giveaway post, expressing how you feel about Domestic Violence (also letting me know you "liked" the post on Facebook)
*Bonus* If you'd like an additional chance to win, share our site link on your Facebook wall (and show proof)
That's it!
Good luck to all participants. We hope this will help get the word out about our mission. END DOMESTIC VIOLENCE!
*UPDATE: Due to unforeseen circumstances we were unable to pick our winner on time. Now that everything is back on schedule, we are pleased to announce that Jennifer Michelle is the winner for our March Giveaway!
**UPDATE 2: Christine was kind enough to donate a 2nd bracelet to this month's giveaway. Our lucky #2 winner is Deborah.
Winners will be contacted either by e-mail and/or Facebook. Thanks to everyone that participated and get ready for April's Giveaway coming up in a few days!